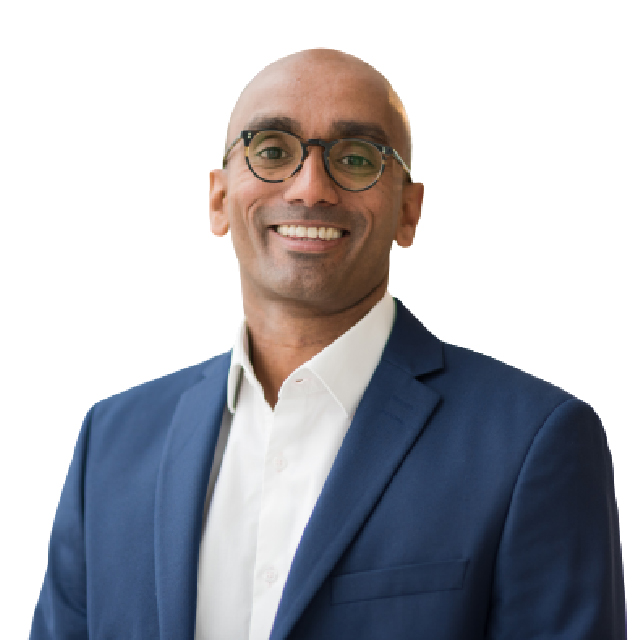 Nim Arumainayagam
BMedSci, BMBS, MD, FRCS (Urol) | Urology
Mr Nim Arumainayagam is a Consultant Urological Surgeon and the current Clinical Lead, (Clinical Director), for the Department of Urology at Ashford & St Peter's Hospitals NHS Trust, Surrey and London. Mr Arumainayagam grew up near Southampton, where he attended school and then graduated from the University of Nottingham Medical School. His basic surgical training was undertaken in London and Bristol, followed by an 18-month period of research at University College Hospital London (UCLH), with a thesis on the diagnostic role of multiparametric MRI in prostate cancer resulting in an MD(Res) higher degree. He was also involved in running the focal therapy trials, (using HIFU and photodynamic therapy), at UCLH during this period.
Mr Arumainayagam's subsequent higher SpR urological surgery training in London, (Imperial North West London rotation – St Mary's Hospital, Royal Marsden Hospital, West Middlesex Hospital, Hillingdon Hospital, Watford General Hospital, Charing Cross Hospital and Northwick Park Hospital), included a year sub-specialty training in surgical treatments for kidney and ureteric stone disease at Charing Cross Hospital, London.
Mr Arumainayagam has held a substantive NHS Consultant post at Ashford and St Peter's Hospitals NHS Trust since April 2015. As well as being the Clinical Lead for Urology, he is the Foundation Year 2 Training Programme Director and the Lead Cancer Clinician for Ashford and St Peter's Hospitals NHS Trust. He is also extensively involved in prostate cancer research with numerous publications, national and international presentations in this field. He is also the principal investigator on numerous prostate cancer trials including focal therapy trials for prostate cancer. Trials include INDEX, PRONOUNCE, CADMUS, CHRONOS and PROSPECT.
Nim, (as he is known to his patients), aims to provide an approachable and collaborative approach towards the health and care of his patients, with a drive towards adopting modern treatments and knowledge to achieve optimal outcomes. His main interests are in PSA testing, multiparametric MRI diagnosis of prostate cancer and MRI and ultrasound fusion guided transperineal prostate biopsies, prostate cancer treatment, alongside the diagnosis and treatment of bladder and testicular cancer. He has expertise and a specialist interest in the treatment of kidney stones and ureteric stones using ureteroscopy and holmium laser fragmentation of stones and percutaneous nephrolithotomy for large kidney stones.
Areas of interest:
Kidney Stones and Bladder Stones
Lower Urinary Tract Symptoms
Benign Prostate Enlargement in men
PSA testing
Prostate Cancer Diagnostics
Erectile Dysfunction
Recurrent Urinary Tract Infections
Investigation for blood in the urine
Bladder Cancer
The information you provide in this contact form is emailed directly to Surrey Total Health. Your information is not stored by this website. We only use your details to respond to your enquiry and do not share them with any third parties. You can read further on how we store and process data in our privacy policy.