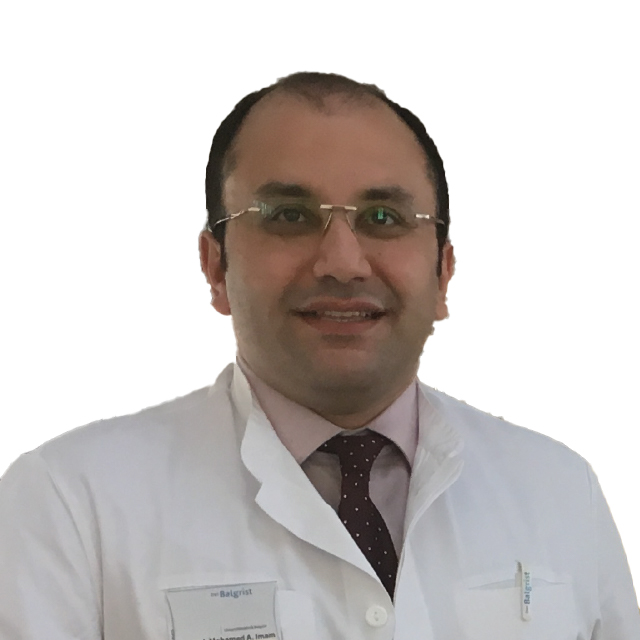 Mohamed Imam
MD, MSc, D. SportMed, PhD, FRCS (Tr and Orth)
 | Orthopaedics
Mr Imam is a fellowship Orthopaedic surgeon with special interest in Upper limb surgery, sports injuries, complex trauma and bone preservation surgery. He was awarded multiple distinctive international awards and travelling fellowships from the NHS Academy, American Academy of Orthopaedic surgeons (AAOS), Arthroscopy Association of North America (AANA), International Society of Arthroscopy, Knee Surgery and Orthopaedic Sports Medicine (ISAKOS), European Federation of National Associations of Orthopaedics and Traumatology (EFORT), International Trauma Foundation (AO) and others. He had a fellowship in orthopaedic and trauma surgery presented to him by The Royal College of Surgeons of England. He has completed two Degree level theses including a PhD on the healing of rotator cuff tendons tears and successfully filed patents. 
Following completion of specialist training, He undertook upper limb fellowships at distinguished centres of excellence. These included embarking on specialist upper limb fellowships training at three internationally recognised units within the UK; the Wrightington Upper Limb Unit, an Orthopaedic Centre of Excellence, the Royal Orthopaedic Hospital in Birmingham and an upper limb fellowship in the Rowley Bristow Orthopaedic Unit, Chertsey, Surrey where he currently works as a substantive upper limb consultant. He also undertook a complex trauma fellowship in a Major trauma centre in Oxford. To augment his experience, he undertook international fellowships including a fellowship with Professor Christian Gerber; the world leading pioneer of modern shoulder surgery, at Der Balgrist University Orthopaedic Centre in Zurich, Switzerland, which is world-renowned for upper limb treatment, sports injury and primary and revision upper limb joint replacement and to augment his trauma experience, he undertook complex trauma fellowship in the BGU Trauma centre in Ludwigshafen, Germany. He undertook travelling fellowships to gain an up-to-date international experience in Mayo Clinic, The Steadman clinic (US Olympic team centre of excellence) and Stanford University. He also undertook multiple travelling fellowships in Europe; these include Madrid, Munich and Heidelberg. 
Mr Imam is a consultant orthopaedic surgeon at the renowned Rowley Bristow Orthopaedic Unit, Ashford and St Peter's NHS Trust in Chertsey. He performs major shoulder tendon repair, reconstruction as well as tendon transfers, joint preservation, joint replacement, cartilage regeneration and dealing with tendon degeneration and tears. He undertakes modern joint replacement surgery of the upper limb in patients with advanced arthritis where joint preservation is not possible. He offers total and partial replacement of the joints, including computer navigation and bespoke shape-matched surgery. He manages different pathologies of the elbow, hands and wrists including fracture fixation, minimal invasive procedures, arthroplasty and others. He operates, using evidence based practice, on different pathologies in the upper limb. He developed different techniques and modified others that he learned from different pioneers during his fellowships. The ethos of his practice is to provide high quality, patient-centred care while tailoring the treatment to each individual patient, based on the best available evidence, which may include surgical or non-operative treatment. He is trained and competent in all aspects of upper limb surgery. 
Mr M Imam is heavily involved in research, having published over 60 peer-reviewed publications in top international medical journals and written more than 12 textbook chapters on upper limb injuries. He has authored two books, one on the uses of stem cells in orthopaedics and currently writing up a reference atlas in shoulder arthroscopy. He regularly presents his research at various national and international meetings. His current research interests include novel materials, outcomes after trauma surgery, the use of stem cells for cartilage and tendon repair, bone marrow concentrate, platelet rich plasma, ligament and cartilage regeneration, optimising outcomes after total joint replacements, minimally invasive fracture fixation devices, arthroscopy outcomes, bone healing and techniques to aid rapid return to sport after injury. He has designed orthopaedic instruments, designed and has published more than 10 novel surgical techniques.
The information you provide in this contact form is emailed directly to Surrey Total Health. Your information is not stored by this website. We only use your details to respond to your enquiry and do not share them with any third parties. You can read further on how we store and process data in our privacy policy.