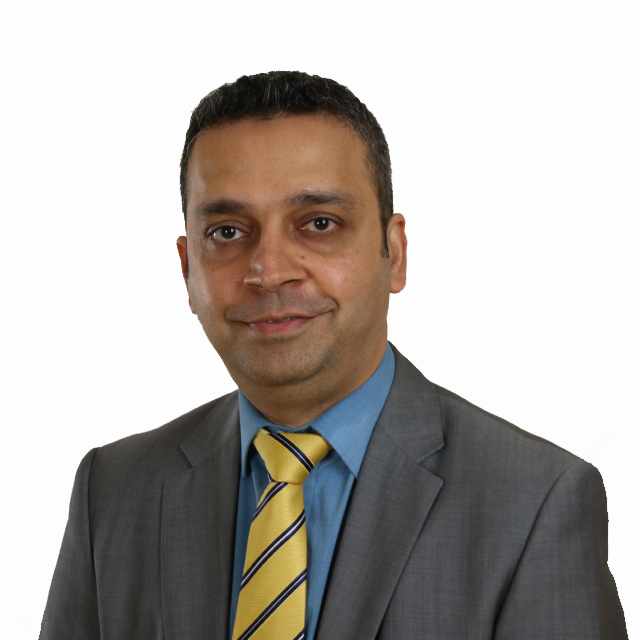 Vinod Gangwani
FRCS, MRCOphth | Ophthalmology
Mr Gangwani is a highly experienced Consultant Ophthalmologist and Corneal/Cataract Surgeon with special interest in modern bespoke cataract surgery, refractive lens surgery, Glaucoma and complex cornea/ ocular surface diseases.
He is a consultant eye surgeon at the Ashford & St Peter's NHS Foundation Trust, where he is also the Clinical Lead for cataract micro-surgery. He completed a fellowship in cataract surgery at Moorfields eye hospital, where he gained extensive experience in complex cataract surgery and premium intra-ocular implants (multifocal/ trifocal and toric).
He followed this up with a renowned fellowship in the cornea and external disease at Moorfields Eye Hospital and also at Kings College Hospital in London. He worked as a Consultant Ophthalmic surgeon at Kings College hospital in London for 15 months before moving to Surrey.
He provides tertiary corneal and cataract surgery expertise for routine and complex corneal problems. Mr Gangwani has delivered numerous presentations at international conferences and published widely in multiple peer reviewed journals including American Journal of Ophthalmology, Journal of Cataract and Refractive Surgery and British Journal of Ophthalmology.
His active areas of interest include: management of astigmatism during cataract surgery, reduce dependency on glasses, refractive lens based surgery, lamellar corneal transplants, bespoke cataract surgery including multifocal/trifocal and toric intraocular implants.
Areas of interest
Cataract surgery including trifocal/ multifocal and toric implants
Glaucoma
Dry eyes
Keratoconus
Corneal cross linking
Corneal transplants
Pterygium surgery
Refractive lens exchange to reduce dependency on glasses
I did quite a bit of research on exactly was involved in cataract surgery, but to be honest I need not have bothered. At my initial consultation with Mr Gangwani I was given all the information that I needed to make the decision to have cataracts operated on. He is a charming person with the ability to "listen" to your concerns and put you at ease, yes I was nervous about having the operations, but I did not need to be. The operations on both eyes went well, Mr Gangwani talks you through everything he is doing at all times which I felt was very reassuring. Follow up phone calls were made to my home to ensure everything was ok and thorough checks were made during the follow up consultations. You really would find it difficult to find a more caring and professional surgeon, a charming man with a secretarial service that is second to none. If you need eye surgery, do not hesitate, contact Mr Gangwani.
During two separate surgical procedures, Mr Vinod Gangwani successfully performed cataract surgery on both my eyes. His pre-op care, courteous understanding and professional manner gave me confidence to proceed. I am over 80 years old and the results have not only greatly improved my eyesight, but also given me confidence and wellbeing, having worn glasses and contact lenses for over 45 years! I consider him to be an outstanding and very talented Ophthalmic Surgeon to whom I am most grateful.
The information you provide in this contact form is emailed directly to Surrey Total Health. Your information is not stored by this website. We only use your details to respond to your enquiry and do not share them with any third parties. You can read further on how we store and process data in our privacy policy.